This week in chill news, we learn about a Los Angeles Man who's recruited a group of fourth (9 years old) and fifth (11 years old) grade children to aid in his mission to build tiny, portable homes to help house the city's homeless population.
Elvis Summers, 40, has been doing this selfless act for the last two years having built dozens of compact one-room homes on wheels. For his latest construction, a 28-foot-by-8-foot home, he has teamed up with a group of more than 100 children, from a local charter school.
One such volunteer is 10 year old Mariposa Robles, who had the chance to saw planks of food, install floor insulation and help raise the plywood walls of a tiny house. Around 135 children have been involved with the project thus far, working in shifts over a year.
"It's so amazing seeing it all come together," an excited Robles told Reuters.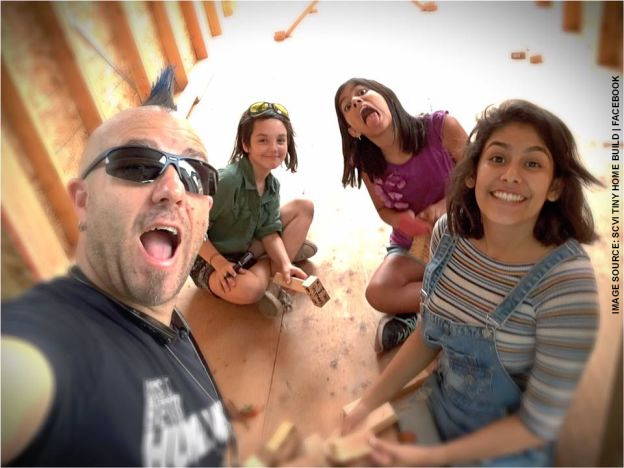 Robles' school, Santa Clarita Valley International Charter School in Castaic, California, reached out to Summers to help with his mission and has raised over $6,000 (£4,611) of a $19,000 (£14,603) target through the crowd-funding website GoFundMe to finish the home.
Los Angeles' homeless population is estimated at about 58,000 people, according to the Los Angeles Homeless Services Authority. Even as cities such as Los Angeles grapple with a chronic shortage of affordable housing, as well as budget constraints on social programs, many municipalities across the United States have also been clamping down on homeless encampments.
Strategically the tiny homes Summers has been building not only help with the affordable housing problem, but because they're built on wheels from on old trailer, it is legally considered a recreational vehicle, "which allows more flexibility in where they can be placed."
Summers mission continuous to change the lives of some of the most impoverished people living in the community and is now teaching children invaluable skills of altruism and hard-work. It truly is a project dedicated to passing on good vibes.