Nine-year-old boy trips, falls and discovers one-million-year-old rare fossil
Discovering a 1.2 million-year-old fossil is pretty chill. A nine-year-old discovering the fossils makes it that much chiller. Accidently discovering the rare fossils making the international scientist community extremely jealous, makes it the very chill.  
Nine-year-old Jude Sparks from New Mexico said he literally fell on the 1.2-million-year-old fossil while on a hike with his parents on the desert outskirts of his neighbourhood in Las Cruces, New Mexico.
"I was running farther up and I tripped on part of the tusk," Sparks said in a statement from New Mexico State University, where researchers are studying the find. "My face landed next to the bottom jaw. I looked farther up and there was another tusk."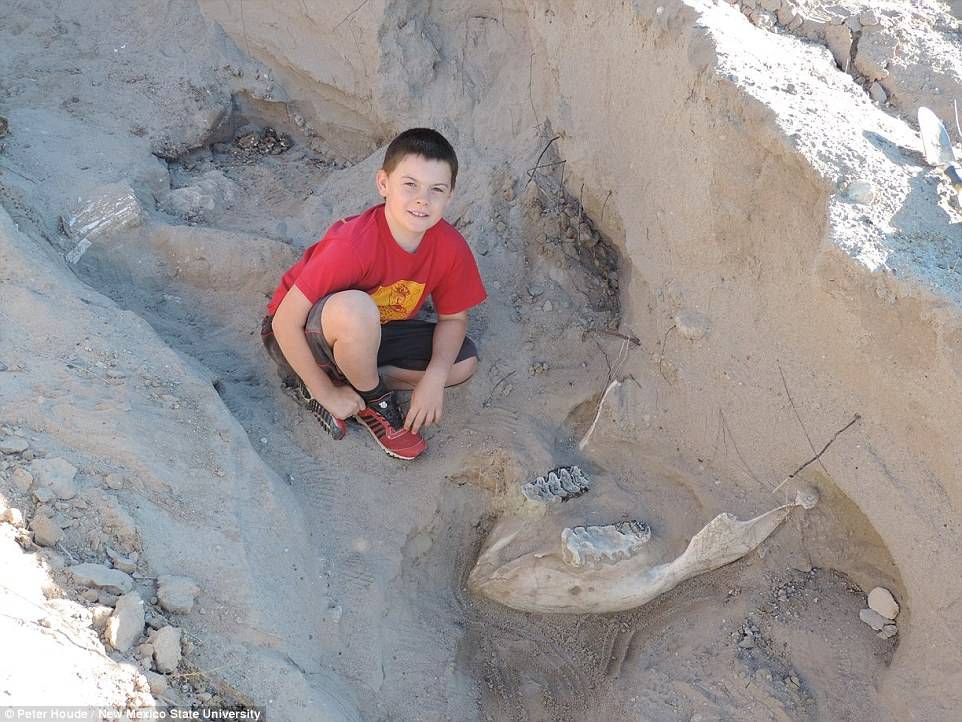 On further examination, he and his brother determined it to be the remains of a "big fat rotten cow". The two brought it to their parents, who identified it as an elephant skull.
They were all wrong.
According to Peter Houde, a biology professor at New Mexico State University who the family consulted, the skull belonged to a 1.2 million-year-old Stegomastodon – a distant relative of the elephant, similar to a mastodon.
"This is really very unusual to find," Mr Houde told The New York Times, adding that it was "fantastic" that such a young person had made the discovery.
Stegomastodon fossils are a rare find in the US, for reasons scientists have yet to pin down. Only a couple hundred have been found in the world, according to Spencer Lucas, curator of palaeontology at the New Mexico Museum of Natural History and Science.
After talking to the Sparks family in November, Mr Houlde quickly got to work gathering a team, securing a permit, and finding funding for the dig. He conducted the final excavation in May – six months after the initial discovery.
"We're really, really grateful that [the Sparks family] contacted us, because if they had not done that, if they had tried to do it themselves, it could have just destroyed the specimen," Mr Houde said. "It really has to be done with great care and know-how."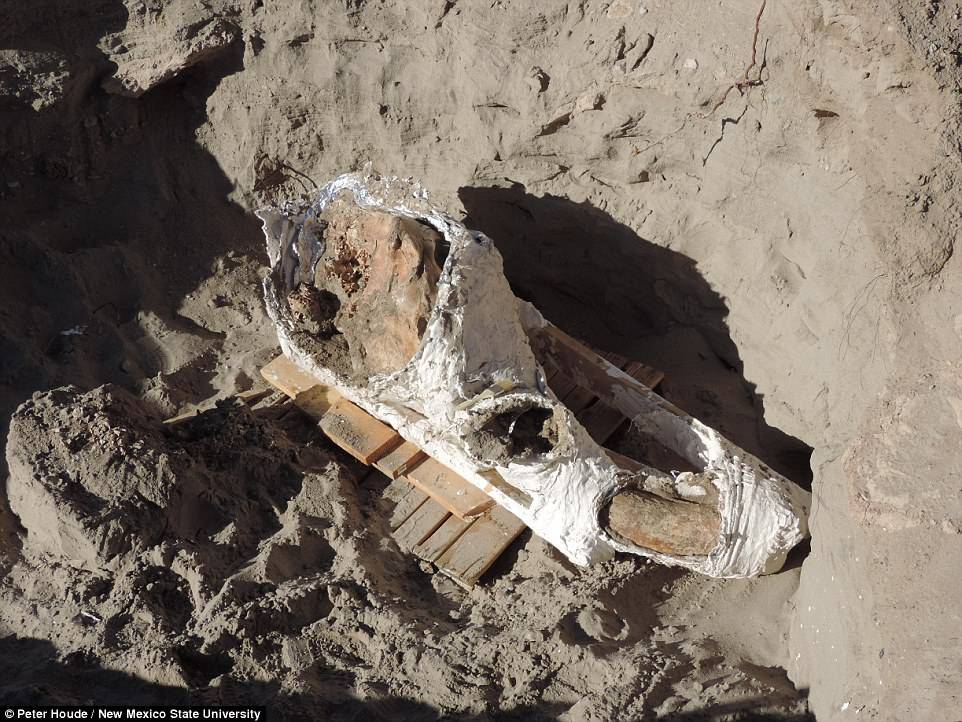 The Sparks family eventually joined with Houde and his students to excavate the skull, a process that took one week.
The large skull is deceptively delicate, and the only thing holding it together was the sediment around it, Houde said.
"When the sediments are removed from the sides of [the bones], they start to fall apart immediately and literally fall into tiny, tiny bits. It has to be done carefully by somebody who knows how to go about doing it. It is a very deliberate process that takes a little bit of time," he said.
The team applied chemical hardeners to the fossil, mimicking the bone strength provided by protein, to keep it intact. Once dug from the ground, the fossil was coated in plaster and supported by wood braces for transport to New Mexico State University's Vertebrate Museum, where it now lives.
"We have the unique opportunity to really compare what the animal looks like [on] a much larger complete scale and compare it with others," Houde told CBS Albuquerque affiliate KRQE, adding that it's extremely rare to find a nearly intact skull of a mammal dating back to the Ice Age.
The process to reconstruct the skull, jaw and tusks will probably take years to complete, Houde said.
"I have every hope and expectation that this specimen will ultimately end up on exhibit and this little boy will be able to show his friends and even his own children, look what I found right here in Las Cruces," he said.
As for Jude, the whole experience has reignited his interest in – and greatly expanded his knowledge on – the field of palaeontology.
"I'm not really an expert, but I know a lot about it, I guess," he told the Times.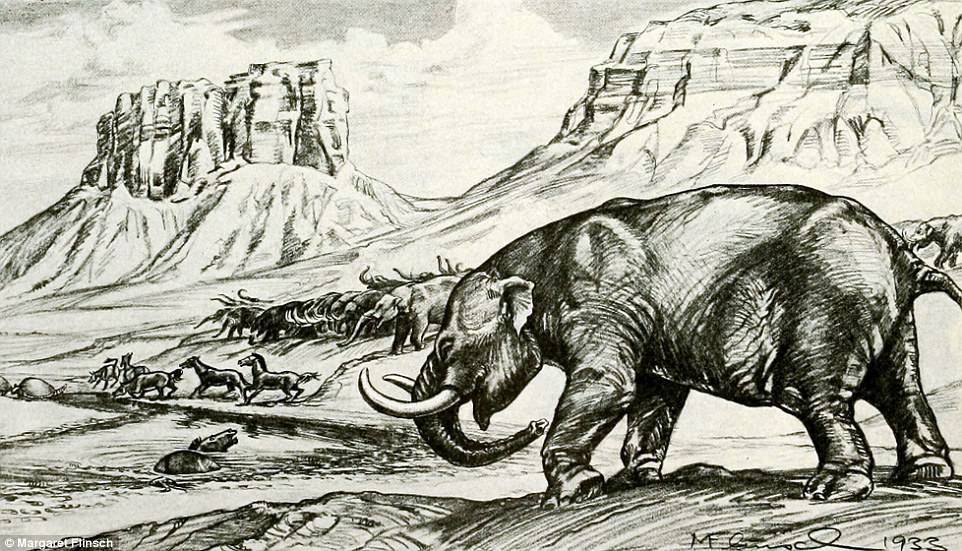 Stegomastodons (above artist's conception) are not dinosaurs as the elephant-like creatures lived in the last million years or so. Dinosaurs died close to 66million yeas ago.
---