Paralyzed hiker takes on a new hike after conquering the Appalachian Trail
Every week I look forward to writing this blog mainly because it forces me to scour the interwebs for stories that show the good, the chill, the joy happening around the world. At first, I was actually surprised at how many stories there were spreading good vibes.
Now, it is true that a lot of them are small stories. World peace hasn't been achieved nor has all disease been cured (yet, I'm looking at you Bill Gates). But it's the little acts of kindness and inspiration that make the world more chill.
Every now and then, there'll be an inspirational story that shows the level of badassery and grit we all harbour deep down. One such story is that of Stacey Kozel. You see doctors didn't think she'd ever walk again. But Kozel never gave up hope.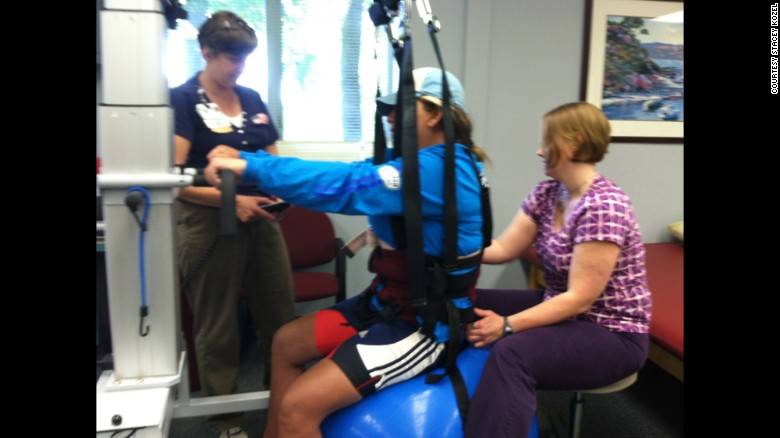 Through sheer determination, will-power and some help from high-tech leg braces, she not only began to walk again, but trekked the entire length of the Appalachian trail, last year.
"I waited till I was paralyzed to actually hike the trail," she joked to CBS News' Jim Axelrod.
That's right. The 41-year-old hiked 2,200 miles, and she's paralyzed. Lupus, an autoimmune disease, attacked her spinal cord three years ago and left her unable to move her legs. 
The autoimmune disease causes the immune system to attack different body parts, including internal organs. People with lupus experience it differently. For Kozel, the disorder targets her central nervous system. Although her heart and lungs function normally, the weakening of her muscles makes it hard for her to breathe. Since her diagnosis at 19, she has frequently had to go to the hospital for treatment whenever she got a "flare-up."
Even as her muscles deteriorated, her spirit never weakened. 
"I just don't want people to give up because anything is possible," Kozel shared in an interview with WBIR. "I've always believed that the possibilities are endless and you just got to keep fighting.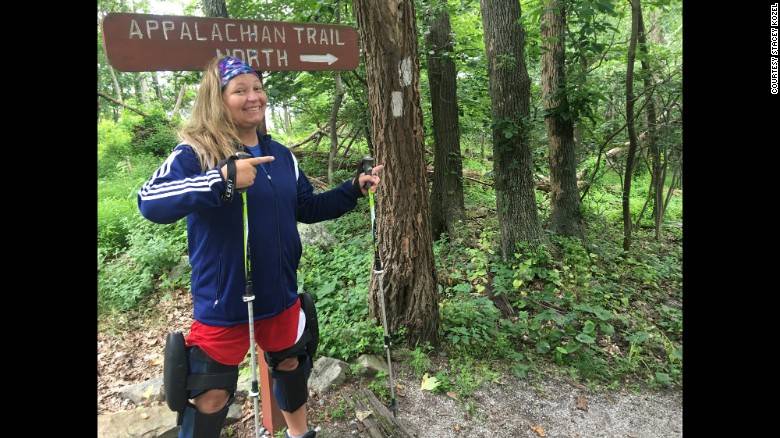 Kozel says she cannot feel anything in her legs while she is walking.
Her legs don't work, but her hips do. She swings them out and back, which is when her cutting edge electronic braces take over.
"There are sensors in the bottom of my foot. The sensors go up a spring in the back and tells this microprocessor that I need full tension at my knees so they don't collapse," Kozel explained.
Basically, the movement from her hip activates the computer, which then gives tension and support in her knee. 
The braces aren't cheap - $75,000 each. Hiking the Appalachian Trail is a walk in the park compared to the fight she had with her insurance. Kozel said she was denied 12 times by her insurance company for the equipment.
"Did you ever come close to throwing in the towel with the insurance company and saying, 'Fine, you win,'" Axelrod wondered.
"No, I'll never give in for that," Kozel said. "I thought if I could do this, the next person might not have as much trouble getting them approved."
An inspirational story, yes. But why are we talking about this now? Well, she now has her sights set on conquering the Pacific Crest Trail. A journey that will cover over 2,650 miles, taking her from the U.S. – Mexican border all the way up to the U.S. - Canada border.
It doesn't stop there, she's also getting faster.
Kozel averaged about 10 miles a day on the Appalachian trail, but has done up to 30 miles in one day on her latest hike.
Her positive attitude and pure grit helps with each gruelling day.
"I've always had hope," says Kozel. "I think you should always have hope. If you don't give up you just never know what you are, you know, what could happen. I mean, who would think that someone paralyzed would be hiking right now so anything is possible."
"I think the possibilities are endless, actually. That's what I always say."
Stacey Kozel can certainly talk the talk, but far more impressive is watching her walk the walk.
---